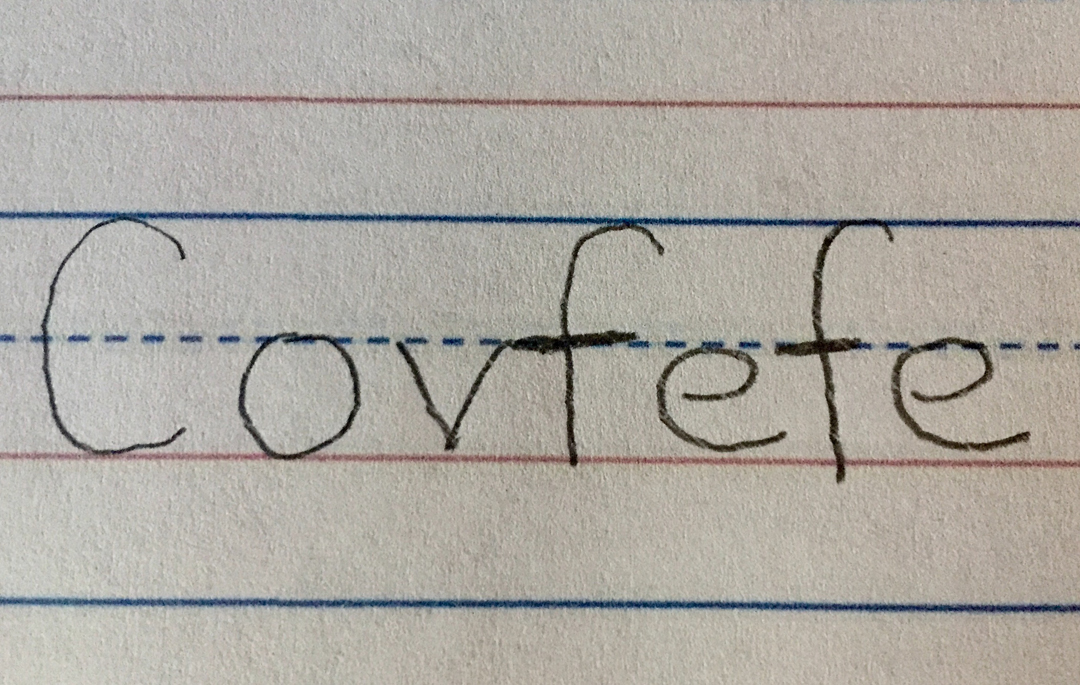 By Cherie Skrivan
So Jesus was saying to those Jews who had believed Him, "If you continue in My word, then you are truly disciples of Mine; and you will know the truth, and the truth will make you free."—John 8:31-32
Covfefe. It is a strange word that is a conundrum at best. In an early morning tweet that ended in the gibberish of "covfefe", the President of the United States hours later deletes the tweet but asks us to believe the intentionality of it as well as the legitimacy of the word, "covfefe".
"Who can figure out the true meaning of covfefe?" He asks in a follow-up to his blunder.
The meaning cuts to the heart of the issue, doesn't it? What does this strange, new word mean? Who can figure it out? Who knows?
We're living in bizarre times. Covfefe only reinforces this obvious fact. Who are we to believe? What are we to believe? The President leads us to believe covfefe is a new and verifiable word with important meaning. Politics is the new version of Fictionary, or Balderdash. And now, wrong is right and right is wrong. Upside down is rightside up, and rightside up is upside down. Everything has become twisted. Lies have become truth, and truth is sold and retold as lies—or fake news.
While these tactics are not really new—especially in politics—to my dismay, they have become mainstream in a whole other way. Truth is not sacred anymore. We hear words and phrases repeated again and again—daily, hourly: "fake news", "lies". It's numbing if not brainwashing. Crazy-making to say the least.
I watch what is happening in my world, with my leadership, in my news, and I'm not surprised—and yet I am shocked. How did we get here? What does this confusion mean for us, for my future and my kids' futures?
And then I remember. All this confusion of meaning and twisting of vocabulary harkens back to my own journey from lies to truth. I realize that I had been brainwashed by familiar phrases like, "happy Sabbath",  "six days we have for work and play, the seventh is for Jesus", "Sabbath is the seal of God", and "grace is a license to live sloppy." For a time, a very long time, I believed these phrases. Hook. Line. And sinker.
Sabbatismos
Until I didn't. One day someone asked me to wrestle with Hebrews 4:9-11 which describes a different kind of Sabbath rest in the new Covenant, a "Sabbatismos" daily rest, 24/7, that we enter by faith in Christ.
I didn't "get" or "see" a new definition of Sabbath quickly. It took me months, 11 months to be exact, to touch, feel, examine, pray over, and consider what these sacred words meant outside of the context of the words and definitions I had been taught my entire life.
Then I realized that if I truly trusted God and took His word at face value, reading these words right in Scripture in the context God gave them, letting Truth illuminate truth, what remains in the New Covenant is a rest we enter "Today"—every day. When we believe, we enter Christ's rest (the rest He entered after He finished the work on the cross and salvation was accomplished in and only through Him). It is this kind of daily rest in Christ that the author of Hebrews urges us to enter. "Therefore let us be diligent to enter that rest" (Heb. 4:11, emphasis mine).
Christ alone is the author and essence of truth. He is our true North, and everything centers on Him. Truth will set us free, not bind us up or leave us scratching our heads pondering legitimacy or intent.
Sabbath—what does it mean to you? And more importantly, which Sabbath are you diligent to seek, understand, and enter—a weekly Sabbath (Sabbaton), or a daily Sabbath (Sabbatismos)? One is at odds with the other; one is an act of disobedience and a sign of unbelief in the New Covenant.
So there remains a Sabbath rest for the people of God. For the one who has entered His rest has himself also rested from his works, as God did from His. Therefore let us be diligent to enter that rest, so that no one will fall, through following the same example of disobedience.—Heb. 4:9-11 NASB
SUPPORT PROCLAMATION!
You can help support the work of Proclamation! Blog and Proclamation! Magazine by donating to our parent ministry, Life Assurance Ministries:
DONATE

Cherie Skrivan was born and raised in the Seventh-day Adventist church and school system. She spent nearly 10 years working for the SDA church in publishing and communications. In 2005, Cherie's life was changed forever as she was born into a new life with Christ. By the grace of God she exchanged her knowledge of Christ for a relationship with Christ alone as her Savior. Today she is happily married to Jim and is a stay-at-home mom to their three kids —Kai, Mila and Marika. They live in Omaha, NE where they are members of Christ Community Church. Cherie is passionate about encouraging and helping people grow their faith and relationship in Christ and enjoys helping teach a discipleship class at their church.

Latest posts by Cherie Skrivan (see all)