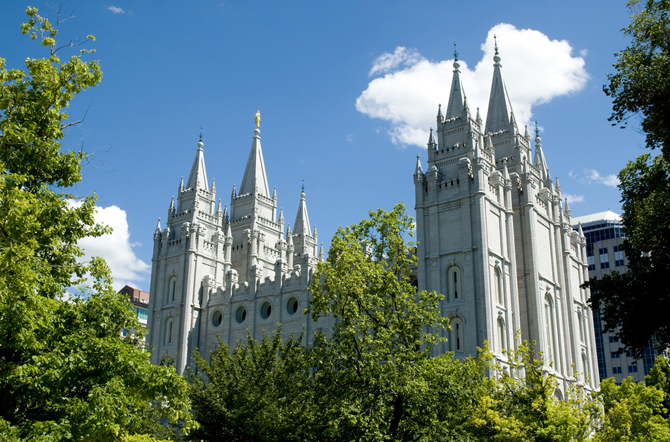 By Colleen Tinker
The Brigham Young University online news source I Scroll republished a story this week which originally appeared on Mormon Newsroom. This story relates that the J. Reuben Clark Law Society of Brigham Young University granted the Thomas L. Kane Religious Freedom Award to Dr. Ganoune Diop, "the director of Public Affairs and Religious Liberty for the worldwide Seventh-day Adventist Church.
Thomas L. Kane was a nineteenth-century Philadelphia lawyer who helped the Mormons migrate to Utah and further assisted them in establishing the state of Utah. Never a lawyer, Kane nevertheless became a friend of the Latter Day Saints, and they have honored his memory by establishing a religious freedom award in his name. Now they present this Thomas L. Kane award to individuals who exemplify "the character and traits of Thomas L. Kane in upholding and defending religious freedom."
Elder Lance B. Wickman, "general counsel for The Church of Jesus Christ of Latter-day Saints and emeritus member of the Seventy," presented Diop with the award and thanked him for "being a friend of the Church like Thomas L. Kane was a friend to the church."
Diop, who recently helped inaugurate a Religious Freedom Center at the Adventist college in Collonges-sous-Saléve, (see "Adventism: Hiding Behind a Humanitarian Front") said it was a reward to receive a reward "named after an individual who stood for religious freedom and uplifted the downtrodden who were not of his own faith."
Then Diop added an affirmation for the late Elder L. Tom Perry. Perry, who died in 2015, had been a member of the Quorum of the Twelve Apostles. Diop "said he knew from his associations with him that Elder Perry was a man of God."
The Quorum of the Twelve Apostles is the second-highest governing body in the Mormon church, second only to the president who is considered to be a living prophet.
Reflections
Diop's affirmation of the Mormon church and Elder Perry stands in some contrast to the historical way Adventists have been taught about Mormonism. Adventists are taught that their own prophetess, Ellen G. White, is the only true last-day, extra-biblical prophet. In fact, Ellen White is sometimes compared to Joseph Smith, the Mormon's founding prophet, and the Adventist students are taught why, from an Adventist perpsective, she is God's true prophet, but Smith was false.
In fact, Adventism and Mormonism actually share some similarities, especially in their "pre-history" stories of Lucifer and Jesus being in heaven before the creation of the world, of their having a disagreement, and of their finally opposing each other.
In Mormonism, they are pictured as originally being brothers, with Jesus being the good brother while Lucifer was the evil brother. In Adventism, Jesus and Lucifer are never called brothers, but Ellen White's writings suggest that they had been on an equal footing prior to God's exalting Jesus to the position of His Son, thus triggering war in heaven and the great controversy scenario.
Perhaps this mutual admiration between the two religions demonstrated by Diop's reception of this Mormon award reflects an underlying sympathy born of similar departures from scriptural reality.
Sources:
BYU Scroll: LDS Church Gives Religious Freedom Award to Seventh-day Adventist
LDS.org: Quorum of the Twelve Apostles
Latest posts by Chris Lee (see all)