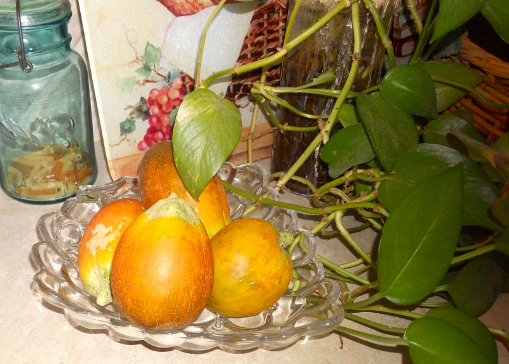 Mangos! Melons! Gourds! My children were excitedly guessing what on earth my harvest was. Never mind that we didn't have any such plants in our backyard. Admittedly, it was a confusing yield. "Nope", I replied. "They are cucumbers". They looked at me like I was crazy. Frankly, I felt a little crazy. When I looked to pick the fruit of my cucumber vine, I did not expect to find these. After all, this was my ninth summer planting this type of cucumber in this same garden spot! Though in recent years, as the trees grew taller and the shade wider and denser, I had noticed my plants had waned in production but they had never before turned out this immature—small, squatty, and yellowish-orange. It was time for me to admit my garden beds no longer got enough sun.
You can probably see where I'm going with this. Instead of making this a teaching moment on science, photosynthesis, and chlorophyll I couldn't help myself but turn this into a spiritual lesson. "Just like our cucumber plants need the sun for life and bearing good fruit; we also need the Son—Jesus."
My family, probably not unlike you, rolled their eyes. I could read their minds, "Here goes mom on another spiritual tangent". I know it's an elementary concept, even a bit too kiddish for my kids, but it resonated deep within me.
Just like my cucumbers with and without sun; my life before and after Christ is incomparably different. During the first 35 years of my life I would have said I lived a good and moral life. But according to whose standards? Mine? Yours? God's? The problem is in God's eyes our good is not, nor ever will be, good enough.  Saul, before he became Paul, kept God's laws. Likewise, The Rich Young Ruler claimed the same. And yet obviously perfect obedience to God's laws and commands wasn't enough to credit them with righteousness. They both needed the Son. And so did I.
But I hadn't realized that until one extremely hot day in July 2005 when I finally understood and fully grasped that I needed Christ's perfect righteousness credited to me instead of depending on my own attempts of self-righteousness. With clarity, I saw my life with and without the Son. Without the Son, to my dismay, even my best obedience wasn't good enough. Living a decent, good or even moral lifestyle wasn't enough either; nor was attending church, keeping Sabbath, or presenting myself as a living sacrifice in religious service to God or others enough to obtain righteousness.  But with the Son, I was credited with His righteousness at my moment of belief (Rom. 4:5).  This was an amazing concept to me as I had based my whole life on doing and obeying unto righteousness all the while bearing worthless fruit—much like my cucumbers.
Jesus is the seed of my faith, the root of my salvation, as well as the evidence of any and every good fruit I produce. Were it not for the Son's resurrected and righteous life credited to me I would be a dead vine cut off from eternal life and unable to produce the abundant and life-giving fruit of His righteousness.
Therefore, my brethren, you also were made to die to the Law through the body of Christ, so that you might be joined to another, to Him who was raised from the dead, in order that we might bear fruit for God.—Romans 7:4

Cherie Skrivan was born and raised in the Seventh-day Adventist church and school system. She spent nearly 10 years working for the SDA church in publishing and communications. In 2005, Cherie's life was changed forever as she was born into a new life with Christ. By the grace of God she exchanged her knowledge of Christ for a relationship with Christ alone as her Savior. Today she is happily married to Jim and is a stay-at-home mom to their three kids —Kai, Mila and Marika. They live in Omaha, NE where they are members of Christ Community Church. Cherie is passionate about encouraging and helping people grow their faith and relationship in Christ and enjoys helping teach a discipleship class at their church.

Latest posts by Cherie Skrivan (see all)