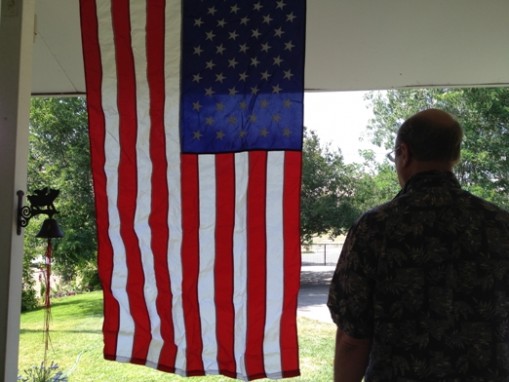 On the Fourth of July I posted on my FaceBook page this picture of Richard standing beside our flag. Soon after, my friend Ane asked, "That pig beside the flag—does it have wings?"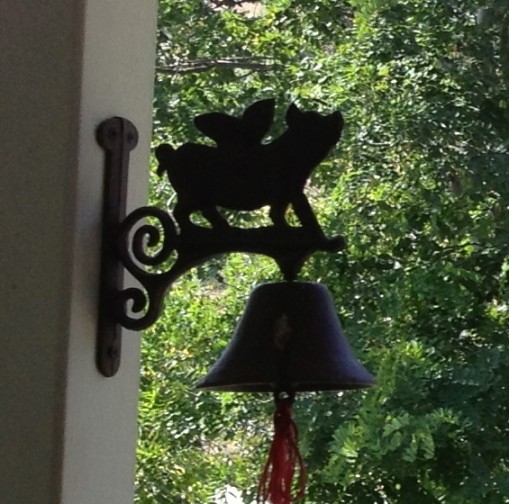 Yes. The pig has wings. As Richard said, "Our house is all about 'when pigs fly': I'll eat meat when pigs fly. I'll go to church on Sunday when pigs fly; I'll leave Adventism when pigs fly…"
Ane understood. The term "when pigs fly" is old and has related phrases in many languages. Our English sentence was made popular by Lewis Carroll in his classic, Alice In Wonderland, and it's used when people want to emphasize that some hypothetical event is completely unlikely. 
Who of us ever thought we would leave Adventism? Did you ever imagine you would eat ham on Easter—or that you would consider Easter the most impacting of all holidays? What about your vocabulary? Could you have imagined that the word "obedience" would NOT evoke images of punishment for failure to keep the Sabbath properly? Who of us expected that we would lose most of our friends and identities and move into a completely new subculture—all for the sake of Jesus?
I recently participated in an online discussion about whether or not the Jesus of Adventism is a "different Jesus". There were many and varied responses, some of which were insightful and penetrating, for example, the responses by our Procalmation! bloggers Delina McPhaull, Nicole Stevenson, and Rick Barker. I confess, however, that the comments by some of the posters were pretty inflammatory. 
One person said that our position that the Jesus within Adventism is a different Jesus than the one in Scripture was so annoying to her that this very position is the reason that she has never visited our weekly Former Adventist Fellowship Bible study.
As unbelievable as it might seem, I understand this person's reaction. I would have been incensed a few years ago with the notion that I had believed in a "different Jesus". Even after I came to know the wonder of being born again and was ushered into the confidence of knowing Jesus' atonement has already been completed on my behalf, I would have bristled if someone had said I had worshiped a "different Jesus".
The truth, however, is that, no matter what "brand" of Adventism we look at, the Jesus Adventists understand could have sinned, could have failed, and was successful primarily because He persisted in prayer and dependence on the outside help of the Holy Spirit. Adventism does not teach that Jesus was Almighty God who came on a rescue mission that could not fail. Moreover, they do not teach that Jesus absorbed all the wrath of God toward sin.
The Adventist Jesus is "just like us"—a biblical phrase which means, to them, that He had no immaterial spirit, and therefore they do not know that He was conceived alive and had no need of being born again. Rather, the Adventist Jesus showed us how to live so that we, too, might avoid sin.
The truth, however, is that the Lord Jesus WAS sinless, and He came as a substitute for me. He became my sin so I can become the righteousness of God in Him (2 Cor. 5:21). 
The Adventist Jesus is Michael the Archangel; he ceased to exist while he was in the tomb, and when he rose from death, angels summoned him: "Your Father calls you." The Adventist Jesus is still embroiled in an unfinished controversy with Satan. 
The Lord Jesus, however, defeated Satan at the tomb (Col. 2:14-15). He is already seated at the right hand of God (Eph. 2:4-6), His work complete. He has ushered me into a new covenant as a minister, "not of the letter but of the Spirit. For the letter kills, but the Spirit gives life" (2 Cor. 3:6). The Lord Jesus is God the Son, and He has never at any time ceased to hold all things together in Him (Col. 1:17). 
Because of Jesus—the real, biblical Jesus—I can eat bacon with pleasure. I can worship with my true brothers and sisters in Christ who also know what it means to be born again and to live for Jesus alone standing on His word alone. Because of the real Jesus, I know I am saved and have already crossed from death to life. Because of Jesus I know that not even death will separate me from Him, but that I will dwell "in the house of the Lord forever" for all eternity. 
Independence Day now memorializes two things for me: the national heritage into which God brought my family, and the eternal inheritance He has given me as His born again, adopted daughter in Jesus. 
I have a new identity, new liberty, new power, new potential, and a new future. I have hope, and Jesus Himself is my joy and peace.
Pigs are flying!
(This post is copied from the July, 2012, Life Assurance Ministries Family News which accompanies the monthly receipts.)

Colleen Tinker, the editor of Proclamation! magazine, and her husband Richard left Adventism in 1998 with their two sons, Roy and Nathanael, who were in grades six and ten. They have co-led the Former Adventist Fellowship since 1999. Colleen, a graduate of Walla Walla University, is a former high school English teacher and also the former managing editor of Adventist Today magazine. Colleen became the stepmother of Roy and Nathanael in 1989, and in 2008 she adopted them. Romans 8:15-17 has assumed new depth and significance for her and Richard since she and her sons chose to claim each other legally and permanently. She and Richard share an office and a commitment to sharing the gospel of the true Jesus with all of those seeking a way out of the bondage of the false gospel of Adventism.

Latest posts by Colleen Tinker (see all)