"And when he returned to Capernaum after some days, it was reported that he was at home. And many were gathered together, so that there was no more room, not even at the door. And he was preaching the word to them. And they came, bringing to him a paralytic carried by four men. And when they could not get near him because of the crowd, they removed the roof above him, and when they had made an opening, they let down the bed on which the paralytic lay.  And when Jesus saw their faith, he said to the paralytic, 'Son, your sins are forgiven.'" – Mark 2:1-5  (ESV)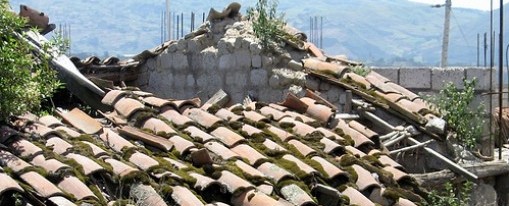 I Want To Be A Roof Breaker!
     The first time I really thought about this story it sort of took my breath away.  Jesus was teaching the scriptures to a very large group of people inside of a house. It was so crowded that even the doorway was inaccessible. Until fairly recently those facts were minor enough to me that I had ignored what was going on before the interruption. I just assumed it was another situation where the crowd was loud and chaotic simply looking for more miracles. However, Jesus was actually teaching them scripture! Certainly with His authority they were hanging on His every word. It is much more likely that, with the exception of the cries of a child here and there, it was absolutely silent as the people listened. All of a sudden there was a loud interruption above them. Pounding… thumping… muffled voices… perhaps the disturbance grew even louder with the cries of startled women or frightened children. It soon became clear what was happening; the roof was being removed! I imagine debris falling to the ground inside of the home as light began to pour in through the hole that was growing larger by the moment. I imagine Jesus, knowing full well what was happening, patiently watching as the scene unfolded. I cannot help but wonder what He had been teaching just before this event took place. I have no doubt that it prepared His listeners for the display of love and faith they would soon encounter. I imagine a shadow emerging over the hole in the roof and the people below quickly understanding what was happening, as they could finally hear the words of the four men above working together to carefully execute their plan without bringing harm to the paralyzed man.  In united effort, the men slowly began to lower their broken friend through the hole in the roof down to the feet of Jesus. There the helpless man finally looked up and stared with great anticipation into the eyes of the only hope he had for restoration.  
  
 I recently heard a sermon on this passage. The pastor was calling Christians to take on the role of the roof breakers and work to destroy the barriers that keep people from experiencing the healing power of Christ. I loved the call! YES! I want to be a roof breaker! After leaving Adventism I was often asked why I could not just leave quietly, enjoy my new "experience," and leave them all alone. I often heard Adventists describe those who expose the differences between Adventist doctrine and Christian doctrine as being divisive within the Body. Well, if I had the chance to answer them now, I would use this story in Mark to illustrate my intentions. I believe that being another voice among those who have left Adventism and long to reveal the truth of the unadulterated gospel of Jesus Christ, God the Son, is the way in which I have been called to be a roof breaker for Truth. If, in fact, the issues that separate Adventism from Christianity were minor issues that didn't stray from Biblical teachings about God and salvation, then I would agree that it would be divisive within the Body. However, through study of the scriptures it has become clear that the Adventist gospel is not the same as the Christian Gospel as taught from scripture only. The Adventist teachings of Jesus describes a different Jesus all together, and consequently a different gospel with a different purpose. See the following issue of Proclamation! for more on this: Living in a World of Deception: The Great Controversy.    
  
  
I will spend the next couple of blog posts explaining why I feel it is important to be a roof breaker for Truth in the context of exposing Seventh-day Adventist doctrine and sharing publicly the experience of leaving and growing in truth. There are some who are offended by the tearing apart of another mans roof, but the fallout from the damage is worth the outcome of seeing others come to Truth and saving faith! I want to be clear that my desire here is to expose the unbiblical teachings of Adventism, not to attack the Adventist people or claim to know who among them is included in the Body of Christ. I know there are Christians within Adventism, but I also know from scripture that they are Christian in spite of Adventist doctrines, not because of them. It is the new birth that places and keeps us within the Body of Christ, nothing more. I encourage you also to spend time with this passage and prayerfully consider how you will be a roof breaker for Jesus.
Read Part 2 of this post HERE.
[author] [author_image timthumb='on']http://blog.lifeassuranceministries.org/wp-content/uploads/2011/12/IMG_7970.jpg[/author_image] [author_info]Nicole Stevenson lives in Southern California with her husband, Carel and her two children, Joshua and Abigail. Nicole graduated from La Sierra University with a degree in Social Work and is currently staying home to raise their kids. Carel is an alumnus of Walla Walla College and graduated from Cal Poly Pomona with a degree in Structural Engineering. While Adventists, Carel and Nicole volunteered their time as mentors to youth. They are now involved in helping design an outreach for Seventh-day Adventist youth who are processing out of Adventism or are questioning the religion they've inherited.[/author_info] [/author]
Nicole Stevenson lives in Southern California with her husband, Carel and her two children, Joshua and Abigail. Nicole graduated from La Sierra University with a degree in Social Work and is currently staying home to raise their kids. Nikki, with her husband Carel, were on the launch team of Redeemer Fellowship, a new evangelical church in Loma Linda, California.
Latest posts by Nikki Stevenson (see all)