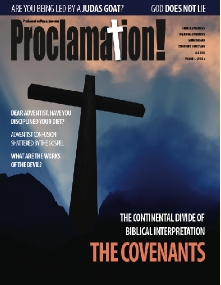 Because the new covenant in Jesus' blood is the heart of the gospel that reveals the falsehood of Adventism's Sabbath requirement, we are dedicating this issue of Proclamation! to understanding how Jesus fulfilled the Law and inaugurated something new. We have updated Dale Ratzlaff's classic study, "The Covenants: The Continental Divide of Biblical Interpretation" which we last printed in the May/June, 2005, issue of the magazine. Because our mailing list has tripled since that date, we want to offer again the clear biblical evidence that the new covenant fulfills rather than adds to the old covenant.
We also share William Hohmann's article on the deceptive works of the devil that lure people away from believing God's word as well as Michael Pursley's short piece on Judas Goats.
Peter Zenthoeffer shares his story of how discovering the gospel caused him and his wife to leave Adventism to retain their integrity, and Rick Barker examines Adventism's Fundamental Belief on the Sabbath. We also hear from columnists Chris Lee, Carolyn Macomber, and Lisa Winn.
We pray that the miraculous truth of the new covenant in Jesus' blood will sweep away the futility of trying to keep the Law well enough to please God. We pray the truth of God's word will convict us all that Jesus is Lord, and only in Him can we know God.†
Latest posts by Chris Lee (see all)