Part III: The Law Fulfilled – The Sufficient and Righteous Work of Christ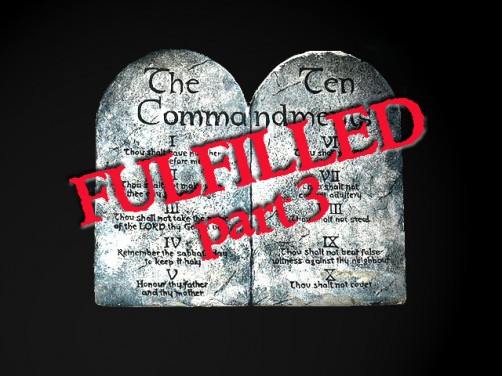 There was a man who cleaned the kitchen for his wife. He scrubbed it from top to bottom, sink to window seal. His wife walked in, said, "thanks" and then proceeded to re-do the work he had just done.
The husband was crushed. Her "thanks" did not reflect genuine gratitude. His work was not validated, if barely acknowledged. Though his wife often said her heart was filled with gratitude, love and respect for him, it was evident it was not. In her eyes his work was not good enough. It was lacking and insufficient.
I wonder how many of us are like the wife re-doing the work Jesus has already finished for mankind? At Sinai, Israel agreed with God they would obey His commandments. God in the flesh, Jesus, born a Jew under Jewish law was the only man able to fulfill that obligation in every way. When believers return to the Law to redo what He has done, what are we saying about the work of Jesus? What does it mean when we contradict His Word and say that He only partially fulfilled the Law (ie: only the "ceremonial" laws)?
Many of us have lost sight of what God was teaching in the Old Covenant. The Old Covenant law was a type of Christ. Each command was a mini "picture" of His righteousness and what He would one day accomplish for man, in man. But the Old Covenant was inferior in every way to the reality and greater righteousness of Christ Himself (2 Cor. 3, Col. 2:13-17). By His perfect design, God ultimately used this system to reveal sin and to show how ineffectively man could deal with it. While the system and laws were extremely meaningful to Israel as they looked for their Messiah's arrival; they pale in comparison to the greater glory of the risen Christ. The book of Hebrews shows us that in the end the Old Covenant was ineffective in the removal of sin and as a means of righteousness. We're told that if this Old Covenant had been sufficient for this, there would be no need for a new one (Heb. 8:7).
Jesus' fulfillment of the Law (including the 10 commandments) does not mean God's eternal laws no longer exist nor does it mean we shouldn't be obedient. It simply means He did for us what we never could do for ourselves. Jesus fulfills for us the righteous obedience God demands both in the Old and in the New Covenant. The Law is not God's highest standard of righteousness (Mt. 5). Jesus is God's highest standard of righteousness and we are found righteous only if and because we are found in Jesus and Jesus is found in us (Rom. 8:9-10).
The big deal with Jesus having fulfilled the Law for us is that in doing so He reveals a greater work than the works of man. His work alone is holy, righteous and all sufficient. One can be judged by the work of Christ or the work of self. By whose work do you wish to be judged? How do you show your Husband, Christ, gratitude for the work He has done for you?
"I do not nullify the grace of God, for if righteousness comes through the Law, then Christ died needlessly."—Gal. 2:21