by Vivian Villarreal 
This is what I love about art. Visually, art can produce all sorts of emotions and thoughts.
What is more amazing is when art is created by your child.
My daughter, Kaeli, drew this amazing picture on the iPad.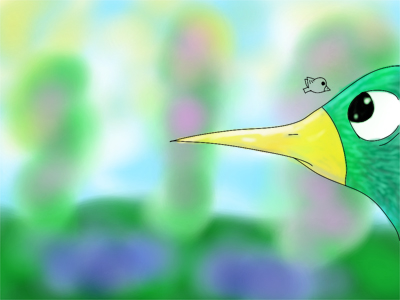 I love that tiny bird!
He's right smack between the eyes of the great big bird AND he has this humongous bird's FULL attention. The big bird sees nothing else. The world is all blurry. Nothing else matters but this sweet tiny bird that is hovering between his eyeballs.
Isn't this what God does to us sometimes? We get busy. We get distracted. He has to sit right between our eyeballs… right on top of our nose to get our attention. He hovers there. Patiently. Until "we fix our eyes on the author and perfecter of our faith" (Heb 12:2). As He comes into focus, the rest of the world fades away. Nothing else matters but the sweetness and beauty of our God.
Fix your eyes today… on the only One who matters.
[author] [author_image timthumb='on']http://blog.lifeassuranceministries.org/wp-content/uploads/2012/01/Viv-n-Kaeli.jpg[/author_image] [author_info]Vivian is married to Sergio and has two kids, Alex (age 17) and Kaeli (age 13). After discovering that Jesus finished His work at the cross for our salvation, both she and her husband left the Adventist church in 2006. Out of their joy for Christ and His Gospel, they started a business of sharing the Gospel through clothing — aiming to reach people one shirt at a time. You can see what God's Tee is up to on Facebook and at GodsTee.com. [/author_info] [/author]
Latest posts by Guest Blogger (see all)