I gave up making New Year's resolutions a long time ago. I could never keep them, and I felt so guilty I finally decided it was better not to resolve anything than to fail annually.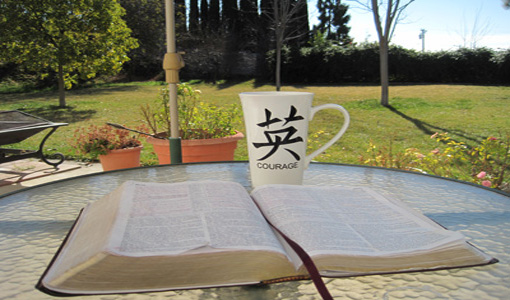 Nevertheless, my Adventist conscience tormented me most of the time; I lived in fear and failed daily. I drank coffee because it made me feel better—then agonized in remorse. I ate meat occasionally, then worried I'd get cancer. I mopped the kitchen floor after sundown on Friday, then begged for forgiveness. I was compulsive, but I could never get it right. By the time I hit my 40's, I was suffocating in anxiety.
I'm no longer 40-ish. In fact, I'm a grandmother now (how can that be?!), but I'm learning something: life does not get easier with age. Quite the opposite, in fact — yet something is different now.
I've been born again. The Lord Jesus really is as amazing as the stories say He is. His life is in me. He has taken all my guilt and failure on Himself, and I can breathe! 
Oh, I have to keep surrendering myself and my penchant for control to Him. He's the Master of my life now instead of me—and my anxiety is gone.
There's a lot that's difficult in my life: I don't get enough sleep. My mother's chronic health issues mean I have to manage her affairs. The demands of this ministry mean our time is not our own, and our income is never predictable. My utility room has piles of laundry, and the roses need pruning. 
These things, though, no longer threaten me. My Father gives me His identity. Having God as my Father also means that reality is good, not sinister, and giving thanks is real. I no longer have to pretend God has blessed me; His peace has chased away my anxiety.
This morning as we walked in the foothills across from our house, I looked down on Loma Linda University Medical Center in the valley. I prayed, as I always do, that God would expose the false gospel of Adventism and set people free. I prayed that the truth about Adventism would become known, and that God would protect the vulnerable from it. 
It was a prayer born of experience. When I realized I had to trust Jesus, even if that decision meant losing everything I loved, I discovered that He is peace. My Adventist conscience began to relax, and Jesus gave me His mind instead (1 Cor. 2:16). Now Jesus has replaced "holy time". I meet him in the middle of mopping. Now I thank God for the blessings of salmon and bacon, and my day is anchored in my mornings on the back patio with His word and a big mug of coffee. 
This January I thank Jesus for being more real to me than my fears, for giving me life and hope, and for making His word alive in my life. 
I'm making no resolutions, but I have one conviction: Jesus is worthy. I pray that He will glorify Himself through my life this year.

Colleen Tinker, the editor of Proclamation! magazine, and her husband Richard left Adventism in 1998 with their two sons, Roy and Nathanael, who were in grades six and ten. They have co-led the Former Adventist Fellowship since 1999. Colleen, a graduate of Walla Walla University, is a former high school English teacher and also the former managing editor of Adventist Today magazine. Colleen became the stepmother of Roy and Nathanael in 1989, and in 2008 she adopted them. Romans 8:15-17 has assumed new depth and significance for her and Richard since she and her sons chose to claim each other legally and permanently. She and Richard share an office and a commitment to sharing the gospel of the true Jesus with all of those seeking a way out of the bondage of the false gospel of Adventism.

Latest posts by Colleen Tinker (see all)